With the current trend of sub notebooks or netbooks, Acer has put out it's own called the Acer Aspire One. This netbook is based on the Intel Atom CPU. Netbooks have started to be based on Linux and has been offered with Windows based models as well. The Acer Aspire One, not excluding, also offers both Windows and Linux based models.
The Aspire One is a netbook that offers you a wide choice of colors from Onyx Black, Golden Brown, Coral Pink, Seashell White and Sapphire Blue.
The base model which runs on a Linux operating system has a solid state storage of 8GB and 512 RAM with a 3-cell battery.
Current models of the Aspire One have two card reader slots. One SDHC card reader that provides additional external storage of more than 4GB. While the other slot is a multi-type flash memory reader which you can use for transferring files to/from the Aspire One.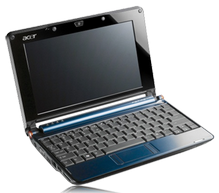 The screen resolution of the Aspire One is at 1024 x 600 on a 8.9″ LCD display. It has a built-in web cam, ethernet port for wired LAN connections, 802.11 b/g wifi for wireless LAN connections and 3 USB ports.
The Acer Aspire One sports a 95% of normal size keyboard thus allowing better typing comfort even for a small device usually equated with NetBooks. The 512MB RAM models has a free memory slot that can be upgraded with an additional 512MB or 1GB RAM.
There Acer Aspire One models that are configured with a 120 or 160 hard disk instead of the solid state storage of the base model which offers a leap in storage capacities at the expense of being less shock resistant.
The price of the Acer Aspire One is about 16,000 – 27,000 pesos depending on the configuration or model. Most computer shops in the malls at Ortigas Center sell the Acer Aspire One.