Mark September 5 on your calendar because this is the day that Oktoberfest 2008 will begin this year. Aside from making it the longest Oktoberfest celebration in the world lasting for 120 days, this year San Miguel Corporation (the organizers) will be attempting to break two Guinness Book world records — the most number of people toasting beer and the longest beer bar in the world.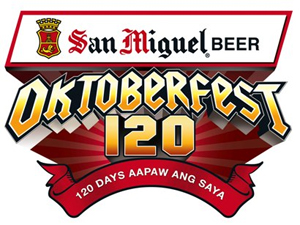 San Miguel Pale Pilsen, world famous beer, will try attempt to put the Filipinos on the record books by celebrating the biggest Oktoberfest celebration ever to get more than 13,500 beer drinkers to raise their glasses and toast at the same time to topple the current record held by the United States.
In addition, Pinoys will be attempting to break another world record which is for the longest bar. The event organizers will create a 600-meter bar stretching throughout San Miguel Ave from Julia Vargas to Lourdes Avenue to up the ante from current record of 240 meters held by Taiwan.
San Miguel Pale Pilsen division, the organizers of the event, will put up four stages along San Miguel Avenue for 40 of the country's hottest bands, including a popular foreign band, to provide entertainment to the merrymakers.
The world record attempts are set to take place on September 5, Friday, all over Ortigas Center in Mandaluyong City, at the kick-off of this year's celebration of San Miguel Oktoberfest. The event is open to all.